EasyTeck's exclusive process creates a natural looking deck, without exposed fasteners or the large cracks of other decking systems. No maintenance required, just an occasional cleaning and hosing down to keep it looking pristine. Does not leach harmful CCA or other harmful contaminants. EasyTeck Decking is impervious to most chemicals,including Bleach and Acids!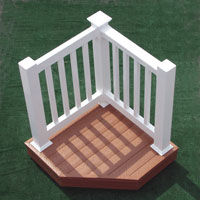 Limited Lifetime Warranty against rot, decay, insect damage. Color is fade resistant. Will not split or splinter.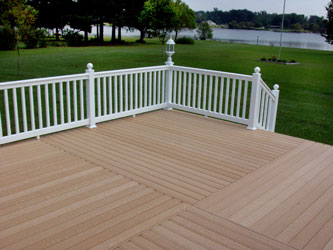 EasyTeck has the lowest life cycle costs.
While a pressure treated wood deck will be less expensive initially, the frequent and costly staining and preservatives will soon surpass the cost of EasyTeck. Low end composite deck boards contain a large amount of wood flour and carry only 5 to 10 year warranties.
EasyTeck has a limited lifetime warranty and never needs staining or treating. In the long run, EasyTeck Decking is the most cost effective decking available.
EasyTeck is available in four natural colors: Redwood, Glacier White, Gray, and Cypress.
CURRENTLY UNAVAILABLE DUE TO MARKET CONDITIONS